New June 2022
Wicklow GAA
Reeling in the Years
In the past, the common fuel for heating homes was Turf /Peat. The Turf/Peat was extracted from the bog. The historical method of extraction involved the use of a spade with a flange to create/shape the turf sod.  The turf spade was/is called a Slean in Gaelic or Slane in English.
Ellie O'Malley gives a demonstration below of this almost dead art/skill on her grandparent's bog at Moyard, Connemara Co Galway.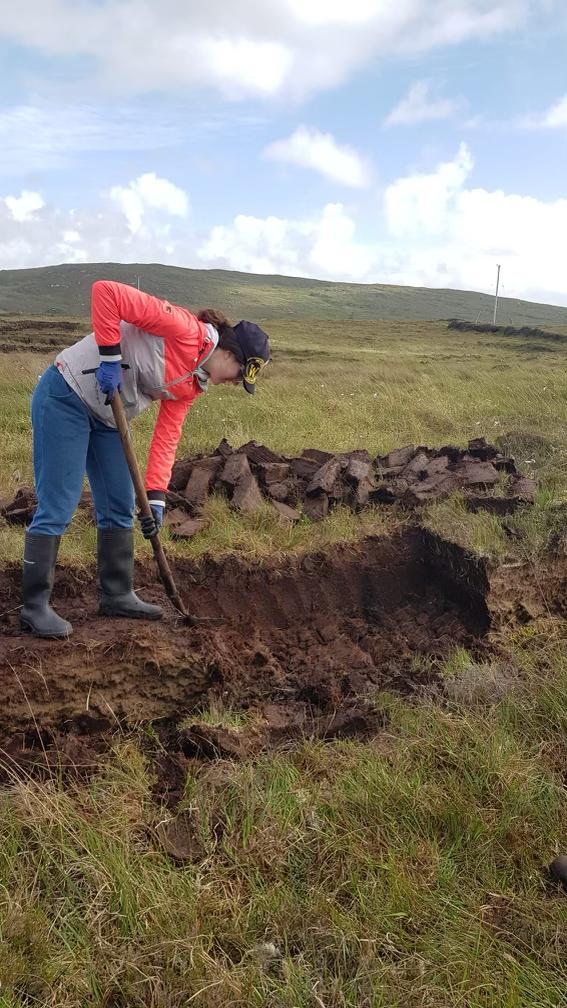 Ellie O'Malley is a member of the Wicklow Minor Gaelic Ladies Football team/squad for 2022.  She is a member of the Eire Og club Greystones.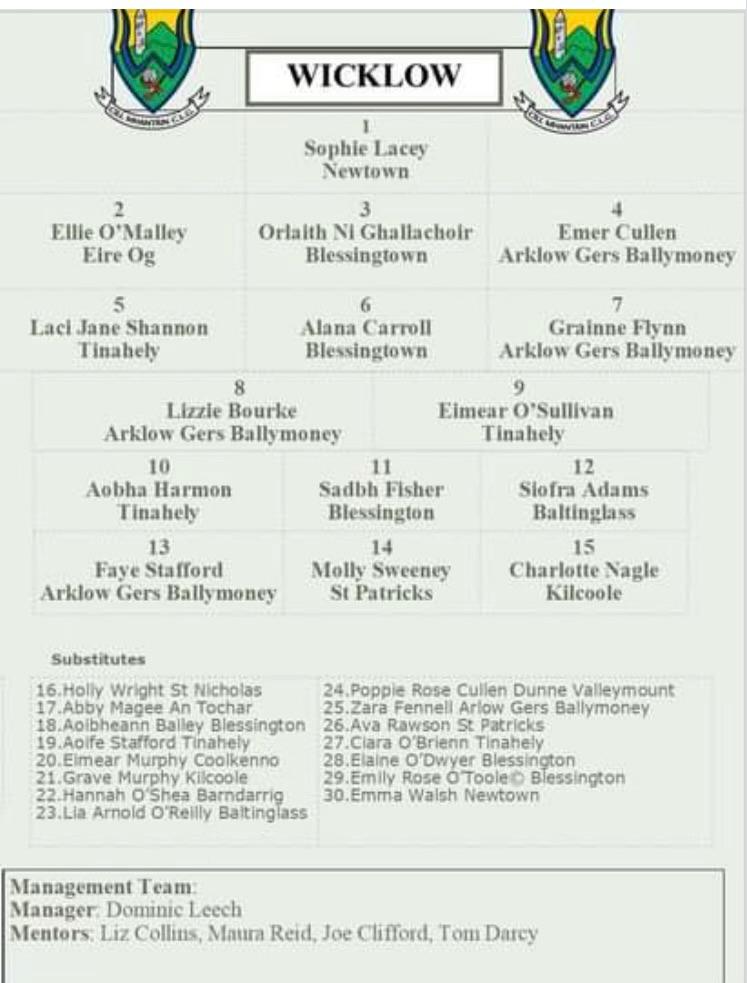 Footnote -. As is visible from the GAA archives Wicklow has never won an all Ireland senior men's football title, however, in 1902 the Wicklow town of Bray represented Dublin when Dublin won the title that year.
New January 2022
                                            A Brief Introduction to the late Jackie Salmon
The Connemara GAA legend Jackie Salmon was born in Cloonluane Renvyle in the 1930s.   He was born into a passionate GAA family with his father Stevie prominent in the GAA in Connemara in the 30s and 40s. Jackie like multitudes emigrated at a young age, in his case to England first and later New York so he only played football primarily at under age before emigration.
He became very prominent in New York as a player and administrator with pride of place initially with his beloved Connemara Gaels.  However as an administrator he expanded his role and progressed all the way to the highest office, culminating in his election as president of greater New York GAA, initially for six years.  This occurred in 1978 when he replaced the legendry John Kerry O'Donnell.   His popularity during his presidency was created by his kindness and support to especially emigrants from not alone Connemara but Nationwide as well.  After his six year stint as president his popularity still remained and it was no surprise to see him being elected once more in 1990 for a further six year period.    Many people paid tributes to Jackie on his departure from this life however the true reflection of the man was, the thousands that paid tribute to him when he was alive?
By john O'Malley and read by Colleen Curran – listen to text and a poem on Track no Music 13
Some  sporting  heroes  do  it  all  for  fame
But  Jackie  Salmon  shunned  the  acclaim
Started  his  life in   Cloonluane  Renvyle
A decade where World War 2 delivered human vile
His first GAA memories – the 52 minor final loss
Emigration followed- first to England then New York

A true Connemara Gael in the capital of the U.S.A
Renowned for his association with emigrants in the day
Became leader of Gaelic football in this foreign land
Reaching the GAA pinnacle in 78 and in 90 again
A helping hand for the new arrivals and a place to stay
Was common place for Jackie from day to day

Returning home to Renvyle in his retiring years
Mixing with the Gaels he left behind as a youth in tears
Never boasted about his contribution to the GAA
Preferred to leave this for others to have their say
So farewell Jackie and thanks for what you have done
For you- you're proud Salmon family and everyone
New May 2021
 See section: Local History – Ballyconneely -bottom of the page
In the 1880s the Canadian Government  made Grants available  for  the construction of new fisheries, Piers and Harbours in Connemara. Including Doleen Pier in  Ballyconneely Village.
See also history of  Canadian W/Op/Air/Gnr: P/O. Ivor Ernest Smithson J/89117 RCAF Age 23, who is buried a short distance from the pier both of which sites which are inter-visible.
New May 2021
Bye/By, Elections in Ireland may comply with legislation however they do not comply with the Constitution.
                      Submitted to the Dail Petitions Committee
New  May 2021
Co-operatives can play a Constructive Role in the Management of                                                   Environmentally Designated Commonages 
Case Study Area – Clifden Region and a Segment of a Bog Complex
Click on Rural Research Topics
New April 2021
Archive photographs from Ballyconneely news.
The Covid, Rabbits Wedding, 2020 by Aoife Cashman.
Children's Book    ISPCA  Mallow
New June 2019
Track no Music 12 'Goodbye to Errislannan'
New May 2019
An Audio Presentation of  the Historical Memories of the Ballyconneely Seaweed Factory
by
John O'Malley
In association with Connemara Community Radio
– See audio track '00 Ballyconneely Seaweed Factory History'
July 2018
An Audio Presentation of  Connemara Rugby History and Memories
by
John O'Malley
In association with Connemara Community Radio
Featuring: Fr. Ned Stankard, Br. Vivian Cotter, Paddy Flynn, Matt O'Sullivan, Gerry King, Pat Walshe, Dr. Mick Molloy, Aidan O Halloran, Mairead Coyne, and Kenny Pollington.
– See audio tracks commencing with Rugby o1 Fr.Ned Stankard.
April 2018
An Historical Audio Overview Presentation of Ballyconneely Parish
by
John O'Malley
In association with P.K. Joyce, Bridget Lydon, Colleen Curran, & Connemara Community Radio
– See the first audio track on the Audio player.
– Pictures Coming Soon…
GAA History, Folklore and Audio Memories, 1912 – 2011
Part Two – Audio
-Includes History of Church Buildings and Photographic Memories
-Resettlement of some Connemarians in Meath, the creation of the Rathcairn Gaeltacht,
         -Memories from Errismore Races, Boxing Memories from Sean Mannion,  Rosmuck
        Part Three –  Audio
Other GAA Regions including – Mícheál Breathnach – Leitir Moir-Carraroe- Oughterard -Carna/Cashel – Na Piarsaigh – Spiddal/An Spideal – Moycullen – Clonbur- Killanin – Renvyle-Barna – Oileann Arann
An Insight Into Connemara Political Families
by
Colleen Curran & John O'Malley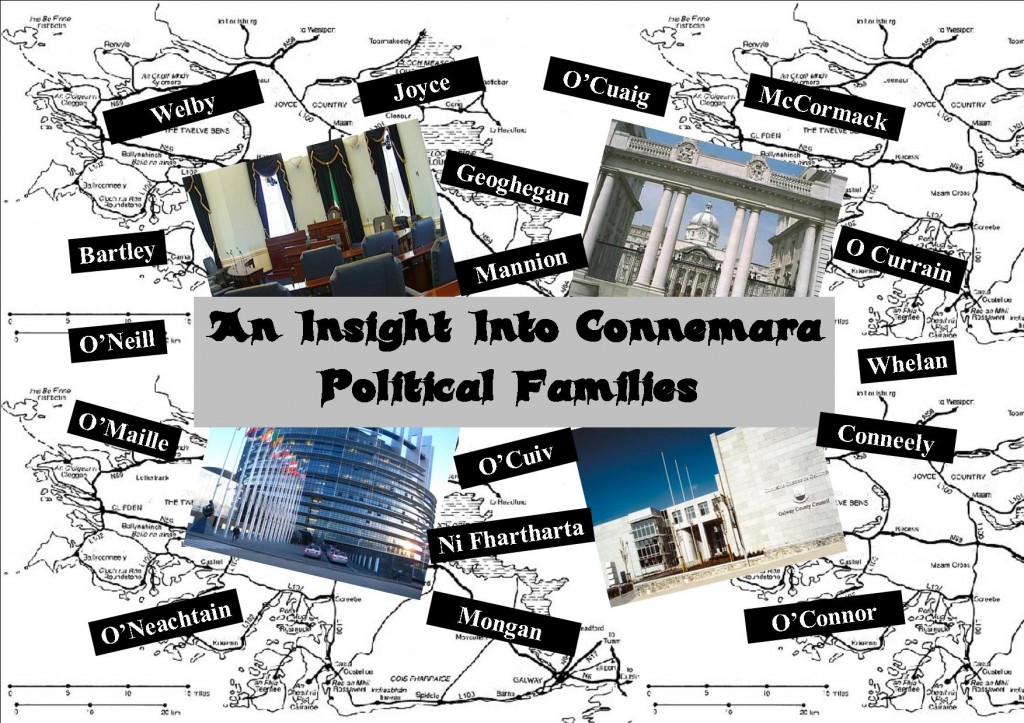 Introduction
The history of political families in Ireland gives an insight into the evolving cultures that were part and parcel of the management of Ireland. It is well documented that the Irish Kings were at continuous war to attain/retain and defend their estates at regional/provincial and national level. This was followed by the invasion of Ireland by external bodies (that commenced with an invitation) and the acquisition of the Irish Kingdoms. However over time the management of Ireland once again returned to the native Irish with the formation of a new Irish Government which was officially acknowledged worldwide in 1921.
It could be argued that Connemara followed a similar pattern; initially Irish families controlled/managed it. For example the Kealy/Keeley families were the dominant landlords during the 12th/13th centuries, until they were dispossessed by the 'The ferocious O' Flaherty's' in the latter part of the 13th century. The remnants of the O'Flaherty castles/forts are still visible in Connemara to this day; also some former residences have been restored and occupied. There are many stories that remain to this day in relation to the 'The ferocious O' Flaherty's'. For example a reference to their conflict with the wealthy Normans of Galway City was established in text format and inscribed on thecity walls- "from the fury of the O'Flaherty's, good Lord deliver us". They were also in conflict with their fellow Irish families in Connemara. The folklore of how a section of the clan slaughtered the Conneely families and burned their commune near Doon Hill in Ballyconneely has descended through the centuries. This includes the hiding place of the pregnant Una Conneely who was the only one of her clan to escape on that fateful night- her hiding place retains its name to this day 'Scáilp Una' (Scáilp gaelic word for a gap in the rocks). The 'The ferocious O' Flaherty's', had also an alliance with Grainne Mhaol (Grace O'Malley) the Pirate Queen.
Connemara was represented in the Irish House of Commons (Dublin) from the 13th century until the Act of Union (1801) under the constituency of Galway. From the Act of Union until 1885, MPs sat at the House of Commons (London), also representing the constituency of Galway. However this was delivered by primarily 'Land Lord Gentry' which included people like Richard Martin and Mitchell Henry and previously by John Eyre whose estate in Connemara is still not dormant. The Geoghegan Land Lords of Ballyconneely had also representation in the House of Commons but not representing an Irish constituency.
It could be argued that it was 1885 that Connemara got its first really true representation, when Connemara was established as a constituency in its own right and electing one member to the House of Commons. The first member elected was Patrick James Foley (native of Leeds) in 1885 and represented the area until 1895. The second member elected was William O'Malley (Ballyconneely) in 1895 and represented the area until 1918. The third and final member was Padraic O'Maílle (Maam) who was elected in 1918 when he defeated William O'Malley; this status remained until the establishment of the new Irish State (agreed in 1921).
Although the British Government bequeathed to the Connemarians their own constituency, alas the new Irish State did not follow suit and Connemara was once more incorporated into Galway County. This remains the norm to this day; however the current Minister for the environment (2014) has bestowed a municipal status on Connemara within Galway County Council elected members.
The new Irish State has delivered many Connemara political families that have made a contribution to the management of the State and the primary focus of this presentation is to give an insight into some of the families from and/or associated with Connemara. The families presented have a direct political association at various levels, for example Galway County Council, Dail Eireann/Seanad and also the EU Parliament. Some of whom are still active in political life.
These audio presentations will concentrate on segments of families that are still living/associated with Connemara. Each family will be given a separate heading and track number in text format.  The presentation will commence with the audio introduction  by Colleen Curran (track Politics – 1000 Colleen Curran). The Audio player is on the right hand side of the first page starting with track 0-scroll down to track 1000
The presentation is a heritage research project compiled and edited  in its entirety by Colleen Curran archivist/researcher /producer at Connemara Community Radio  and John O'Malley an accredited researcher.  The project is supported by the Leader Programme which is delivered by Forum Letterfrack.
Footnote: There are many attempts in the public domain at giving a credible definition to the name Connemara but it could be argued that the really true meaning has evolved from its visual impact on a map.  For example from the Spiddal region to Leenane incorporates a multitude of sea/bays/inlets which is a direct translation??