Oughterard  GAA Club is one of the oldest GAA clubs in Galway.  It was first registered for official competition in 1908 but prior to that date there were several town land teams involved in primarily localised competition.  It won its first county title (junior) in 1919 and its only senior title in 1938.
All Ireland Intermediate champions in 2019/20 championship year
It has supplied the county with an array of talent over time supplying players that won all Ireland titles at minor, under 21 and senior level including winning the interprovincial title as well.  However it could be argued that their folk heroes were players that did not win all Ireland titles, namely the legendry footballer Tom Sullivan and the multi talented – 'the famous Pat Gibbons'.
Many individuals and families have contributed to the continuation of the club as administrators and players with some combining both over time.
To listen to GAA memories from Oughterard by Willie Darcy, Tom O'Sullivan, Gerry Darcy and Roddie Joyce
Part A – click on track –70a
 Also on track 65 you may listen to Bob Welby and Willie Darcy relive their racing memories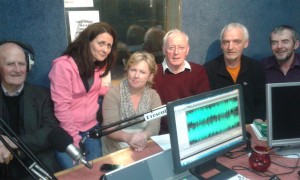 Left to right Willie Darcy, Catriona Darcy, Colleen Curran Connemara Community Radio, Roddie Joyce, and Gerry Darcy at the recording at Connemara Community Radio Studio- April 2014