Recess
Football was played in Recess at town-land level dating back to the early part of the 1900s. It is not until 1938, however, that records are available when Recess entered the Mongan Cup in their own right. The area used for training was in front of where the quarry is today. Paddy Joyce (Peter) remembers the 'sevens' at Recess as far back as the 1940s and he recalls the Keoghs (Oughterard) and Joyce's (Clifden) playing in 'sevens' of the that era. He also recalls Henry Kenny (Mayo/Connacht) cycling to teach school with his football boots strung on the bicycle. Players from the Recess area have played with several clubs over the years but have aligned themselves with Na Piarsaigh for the past twenty years.
Players that played with Galway or other counties: Mattie, Mickie and Jackie Kerrigan (Senior, Meath), Henry Kenny (Senior, Mayo and Connacht – taught in Recess), Frank Joyce (Wicklow), Paul Joyce (Minor), Dessie Joyce (Under 21), Charley O Malley (Galway Masters), John Ramus Joyce (London).
Dessie Conneely-first Moycullen man to captain them to a Connacht senior club win (his mother is from Recess)
To listen to the folklore of Recess from John Ramus Joyce, Charley and Jonnie O'Malley, click on track 35.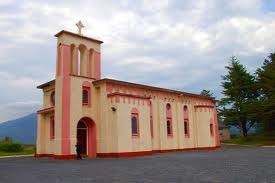 Listen to Fr. Ronayne's church history track 57.